Last time, I promised I'd explain my Master Dream List and how I use it to keep track of all my ideas, hopes, dreams, and goals – financial, or otherwise.
First, for those who've just joined us here for the first time, my family is enjoying a free week's stay at a cottage that we borrow from friends each year.
Cottage week is our family's best week of the year.  Because we're all together. Playing catch in the yard. Going for hikes. And spending most of the time in the water.
Oh, and did I mention S'mores every night, too?
I've noticed that something "magical" happens to me after being at the cottage just a little while. My mind begins to set aside the day-to-day stuff I usually think about, and I start thinking about more "big-picture ideas."
At the cottage, I am reminded that my family is one of the most important values in my life. And that being outside gives me a greater sense of appreciation for the creation and Creator.
I begin to dream a bit more. Gain some new hopes for the future – of things I want to accomplish in my life and things I wanted to see happen in the lives of my wife and five children.
Yes, sometimes I do start to have feelings of discontent, like I shared last time.  But I handle those feelings by writing them down in my Master Dream List.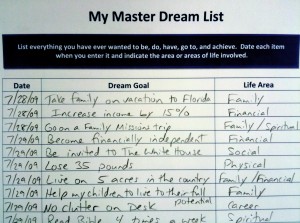 In my Master Dream List, I keep a running list of everything and anything I'd ever like to do, be, have (including financial goals), or achieve, and any place I'd like to go.
Whatever the thought is, and whenever it enters my mind, I just add it to the list.
I don't have to quantify it.  I don't have to justify it.  I don't have to believe it is realistic or achievable in this lifetime.  I don't have to limit myself or my dreams in any way. I just write them down, along with today's date.
Then later, usually once a month or so, I review my Master Dream List and see if anything pops out at me as something I actually ought to think more about and start to work toward accomplishing it.  Then I'll set aside some time to really think it all through, sketch out a rough plan for achieving it, and commit to taking the first steps.
But sometimes I look at the list, shake my head, and say, "Why in the world did I think THAT was important at one time?  And then I cross it off the list because now it doesn't matter to me at all.
When do you find time to dream and envision what your future life could be like?  
Are there certain places or activities that inspire you and cause you to think big?  Or long? Or deep?
Or does it feel like your "dream machine" is broken?
If you can't seem to find any time to dream and envision what your future life could be like, or if you try but your "dream machine" seems to be broken, a stay at a cottage may be just what you need!
Of course, you don't have to limit it to a cottage, and you don't have to go away for a week. You could go to a hotel, go camping, sailing, hiking or biking. Or do some gardening in the yard.  Or just lay out in the sun awhile.
The point is that there is power in getting away from it all for a day, half a day, or even just an hour.  
It can re-energize you physically, emotionally, mentally and spiritually, bring clarity to your thinking, and might even give you a million dollar idea that could change the course of your life forever.
Check out my personal growth blog, Life Compass Blog, for more on how to create your Master Dream List. 
What do you like to do to keep your "dream machine" working in your life?  I'd love to read your thoughts in the comments section. Thanks!
You might also like: