This week I pre-paid for a three-night's stay at the Baymont Hotel in Franklin, Tennessee and saved about 15% off the regular rate.  Based on what I experienced during my stay, I don't think pre-paying for a hotel for more than one night is a good idea.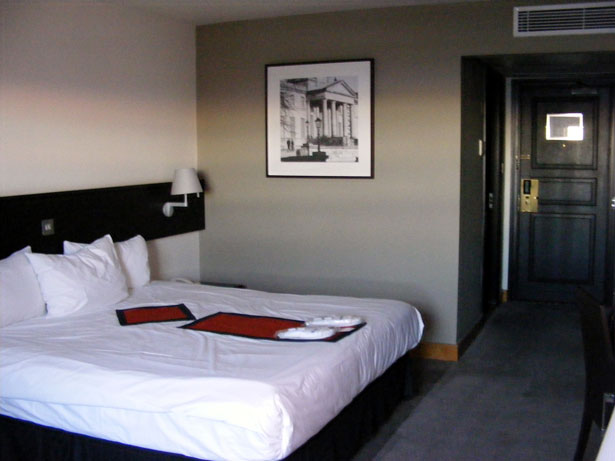 I traveled to Franklin, Tennessee to attend Dan Miller's Coaching With Excellence seminar.  I've been using Dan's 48 Days to the Work You Love material as a life coach for many years, and was blessed to sit at Dan's feet for a while, with about 20 other people, to gain new coaching insights and perspectives.
When I searched online for a hotel in the Franklin area, I tried to find one with an indoor pool, because I enjoy exercising in the pool when I travel.  Unfortunately, many of the hotels in the area had only outdoor pools – not a great idea for the month of January.
After searching the Priority Club and Choice Hotels, I tried Wyndham Hotels and found that the Baymont Hotel in Franklin had an indoor pool. Perfect!  And they offered a discounted rate for my three-night stay if I pre-paid for the room . Extra perfect!  Or so I thought…
The Good, Bad and Ugly About Pre-paying for Hotel a Room
The good thing about pre-paying for a hotel room is that you get a great price that is often 10-15% off the standard rate.
The bad thing is that if you need to change or cancel your reservation, there are no refunds – you are still charged the full rate for your entire stay.
That can be really ugly if you've pre-paid for a multi-night stay, and the hotel doesn't live up to your expectations.  As I soon learned first-hand.
I've pre-paid for hotels a few times in the past and never had any problems with it. But this time I was very disappointed with my choice.
After checking into the hotel, I went right down to the pool to get some exercise. Unfortunately, the pool was extremely cold.  Not "average" cold like many hotel pools are, but chillingly cold – like it wasn't heated at all.
I asked the person at the front desk if that's how the pool usually is, and he said the pool heater must have shut off early or something. He promised to look into it, and I told him I'll try again the next night.
Well, I tried the pool the next night, and the next night.  Bone-chillingly cold each time.
Since I couldn't use the pool, I visited the exercise room and used the treadmill.  One of my biggest beefs with hotels regarding their exercise room is that some don't keep their treadmills in good condition.  The belts often get loose and start slipping, making it impossible to run on the treadmill.  That's exactly what had happened to this one, too – making it unusable.  Gratefully, there was a bike, so I could at least get some exercise in.
Each evening, I tried to get some work done via the Internet.  Unfortunately, my wi-fi connection kept cutting in and out throughout my three-day stay.
If I hadn't have pre-paid for more than one night, believe me, I would have left the Baymont for another hotel after my first night's stay just because of the pool, let alone all the other issues.
But because I pre-paid for three nights, I was stuck and had no leverage to work with.
This situation is causing me to re-think whether pre-paying for a hotel room ever makes sense.  Maybe it's OK for just one night, but I don't think I'll do it again for a multi-night's stay.
What about you – Have you pre-paid for hotels before?  Any problems? And would you prepay for a hotel room in the future?
You might also like: