Want to save big money on restaurant gift cards for the holidays, or any time? It's easy if you have a membership at one of the big box warehouse clubs like Costco and Sam's Club! For years, I've shopped at Sam's and Costco and paid scant attention to the gift card section. Until a few years ago, that is, when I noticed some incredible savings on popular national chains and even great local restaurants.
Why I never really paid attention to the gift card section before, I do not know. Maybe it had to do with where it was located inside the store, or maybe none of the restaurants grabbed my eye when I passed by?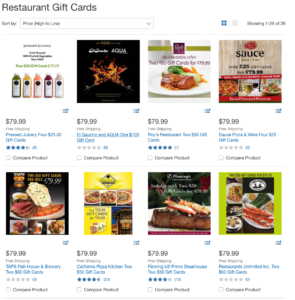 Or MAYBE I was too busy eating all the samples to notice anything else was happening? Yeah, that's probably it!
On average, I've found that you can purchase $100 worth of restaurant gift cards at Costco or Sam's Club for $79.99 – that's a savings of 20%! Or even as low as $69.99 – a savings of 30%!
They typically come in multi-packs of four $25 cards, or two $50 cards, for example, not just one $100 card. Which is great if you want to give restaurant gift cards to several different people
You can save more money by using your Costco or Sam's credit card to buy your gift cards, and get cash back savings as well.
And you don't have to just purchase these gift cards in-store. You can also buy them online and have them shipped right to your home.
This is a great way to save money when you want to buy gift cards for friends, family, co-workers, etc., or even for your own dining pleasure. In fact, when my wife and I go out to eat with our kids, there's a total of eight of us now that one son is married, so being able to buy $100 in gift cards for $69.99 or $79.99 gives us a really nice discount on a night out with the family!
Looking for other ways to save, or even make money on restaurant gift cards? Check out my post on holiday gift card promotions, where restaurants give you a reward for every gift card you buy.
Have you purchased restaurant gift cards at Costco or Sam's Club? Do you like using them for yourself, giving them as gifts, or both?
(This article was originally published on December 5, 2017, and updated on November 11, 2018)