The 70 and 80-degree weather we've enjoyed in Michigan recently (in March) got me thinking about affordable landscaping projects we can do in our back yard, which is quite small.  And that's actually good because our landscaping budget is quite small as well!
My jaw dropped when my friend Crystal at The Thrifty Mama recently shared a brilliant idea she discovered from Life on the Balcony on how to turn a pallet into a garden.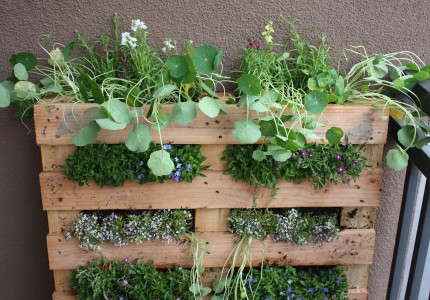 I absolutely love this idea and want to try it alongside one section of wooden fence in our back yard.
I'm really interested to see if we can grow some herbs and vegetables in a pallet too – and not just flowers. I have no idea what vegetables might work in the amount of soil that is available here in a pallet.
What do you think?  Have you ever grown a pallet garden before?  Or do you think you'd like to try this or another affordable landscaping project this year? Please share your comments!
You might also like: