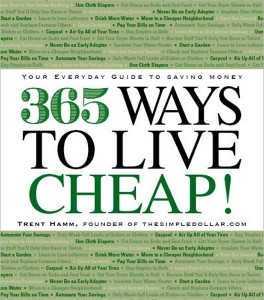 If you're looking for easy ways to save money and make ends meet, you'll enjoy reading 365 Ways to Live Cheap! In it, author Trent Hamm of The Simple Dollar shares great tips on ways to cut costs on just about anything you "need," without sacrificing your lifestyle.
True to it's title, 365 Ways to Live Cheap! offers 365 ways to save money on:
Appliances
Automobiles
Banking and Investing
Children and Families
Clothing
Clutter
Credit Cards and Debt
Electronics
Energy Use
Fun and Hobbies
Groceries and Supplies
Health
Housing
Insurance
Love and Marriage
Socializing
Shopping
Utilities and Bills
Vacations
The book is an easy read, and not one that you have to read all at once, though it might be good to do so the first time.
I think it's a great reference book that you can turn back to anytime you're looking to save money on any of the aforementioned topics, or when you need a refresher in how to live more frugally.
It's something you can quickly pick up, read a couple of tips, and move on.  It'll help you spend less money, and enjoy more of your life.
In my next post, I'll share Hamm's 10 Biggest Tips for Living Cheap. If you haven't done so yet, please subscribe to our RSS feed so you won't miss future articles.
You might also like: