Next week I'm attending the Christian Leadership Alliance conference in Orlando, FL. Hundreds of church pastors, denominational leaders, and Christian nonprofit leaders will be there from all over the U.S. Speakers at the 2012 CLA conference include religious and business leaders like: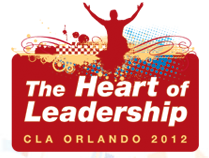 Kay Coles James – Government and nonprofit leader
Gary Chapman – Best-selling author
Gordon McDonald – Author, pastor and chancellor at Denver Seminary
David Loveless – Senior Pastor of Discovery Church in Orlando
Mark Miller – VP of Training & Development at Chick-fil-A
Steve Douglass – President and Chairman of Cru (Campus Crusade for Christ)
John Jenkins – Senior Pastor of First Baptist Church in Glenarden, MD
Elizabeth Maring – Attorney and Nonprofit leader
William A. Roberts – National Commander for the Salvation Army USA
And many more!
Is anyone else attending CLA this year?  If so, I'd love to meet you! Please leave a comment, send me a message, or reach me via Twitter at @MoneyWisePastor.
You might also like: