I am so excited – I can't believe that I just won a free 8-day, 7-night Caribbean cruise on Carnival Cruise Line. That's my kind of a free pastor vacation!
My wife and I went on our first cruise a few years ago with her side of the family – and we're itching to go on another cruise.
Our five kids were with us for the first time, and we had an incredible experience on Royal Caribbean's Navigator of the Seas.
It was a 6-day,  5 night cruise out of Miami right before Christmas.  In fact, our cruise returned to Miami on Christmas Eve.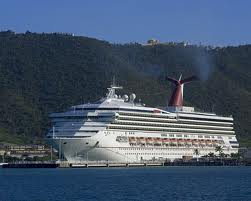 The weather was rainy a couple of days, and we had quite a bit of wind one day and night in particular, but we had a great time and enjoyed all the shows and amenities that the ship had to offer.
Anyway, I opened the mail yesterday and found this letter that said I won a free Carnival cruise plus free airfare.  All I have to do is call a toll-free number to claim my prize!
I haven't called them yet.
Because I noticed some fine print on the back side of the letter I received, explaining that this offer of a free cruise is part of a vacation promotion.
In other words, my wife and I probably have to sit through a two-hour long presentation about a timeshare condo or resort vacation program before we can receive the cruise.
Oh, and the cruise dates are limited. So who knows when we'll be able to take advantage of it.
Now I'm not as excited as I was when I first opened the envelope!
Have you taken advantage of a free cruise or free resort stay after listening to a timeshare condo or resort vacation pitch? Was it worth the hassle to get the free vacation?  And was there any pressure to buy? 
I'd love to hear your experience so please share in the comments below!
Hey, Don't Miss Out on These…