What's your scariest money story? Something that happened to you in real life..or an actual nightmare you had about money? For Halloween, My Money Design recently asked this of his readers, prompting me to ask the same question here, and to share my scary money story. Actually, I have two.
My Wife's Purse was Lost or Stolen Right Before a Cruise
For Christmas in 2009, my wife and I went on a five-day Royal Caribbean cruise out of Miami with our five kids and my wife's parents and siblings and their children.
We decided to arrive a few days early to enjoy some time on the beach in Miami Beach before our cruise departed.
We went to a Subway restaurant for lunch and when we returned to our ocean-front hotel, my wife realized she didn't have her purse with her.
We turned the hotel room upside down (actually, we had two rooms, so we turned them both upside down) trying to find her purse. But it was nowhere to be found.
Then we went back to the Subway to see if her purse might be sitting there somewhere, or if the workers had found it.  No luck.
We came back to the hotel and asked the security team to look on their video camera tapes to see if she had the purse with her when we came back to the hotel.  She didn't.
So, as far as we can figure out, she must have left it accidentally at the Subway – maybe in the restroom, or someone must have grabbed it while we were sitting and enjoying our lunch.
Unfortunately, my wife lost not just her purse but her phone, iPod Touch, keys, ID, and $500 in cash for our cruise – to pay for tips and incidentals.
Gratefully, we had taken the passports out of her purse and had left them in the safe in our hotel room.  I can't imagine the hassle we would have had to go through to try to replace those passports 24 hours before our cruise.
It was such a sick feeling to know that her purse was lost…and we wracked our brains trying to figure out where we might have left it, or what might have happened.  But eventually we resolved ourselves to the fact that the purse was gone along with all of that money.
And we realized that God could somehow see to it that the purse was returned to us.  Or he would provide for us in other ways to cover the losses.
We wanted to use this as a teachable moment for our kids. We prayed for those who found, or took, my wife's purse. And we shared that while we were disappointed to lose that stuff and all that money, it was just stuff and money, and we weren't going to get worked up about it.
Aside from asking a friend back home to change the locks on our home (just in case) while we were gone, we had an awesome time on the cruise and just left the situation up to the Lord.
We never did find out what happened to my wife's purse, though she did find her drivers license in the mail about a month or two later, in an anonymous envelope. Of course, it had long been replaced by then.
Our Home was Broken Into While We Were on Vacation
Every summer, a friend from church lets us use his lakeside cottage for a vacation. It's our favorite week of the year.
Two years ago, we returned home from that beach holiday to find that our home had been broken into. Our best week of the year had just become our worst week of the year.
The thieves had pushed-in a window air conditioner and climbed through the window into the home.
They stole our fairly new iMac desktop computer, an old Sony laptop, several iPods, and all the money our kids had saved in their wallets and piggy banks.
Interestingly to me, they didn't take our 50-something inch tv (that my mom had given us when she downsized), DVD players, or anything else.
The police said the thieves were probably just looking for small stuff they could take pretty quickly. There had been a rash of these types of burglaries in our neighborhood recently.  Lucky us.
While we felt violated that someone had broken into our home, and disappointed that some of our valuables had been stolen, we again were reminded that our stuff was just that:  stuff.  It could be replaced.
This home break-in turned out to be a blessing in disguise. The biggest reason why is because we had replacement value coverage for our homeowners insurance.
Replacement value means that when you have a loss, the insurance company pays you what it would cost to replace that item (with comparable features) today.
Without replacement value coverage, the insurer pays you only what the item is worth today, based on what you could get if you sold it at a garage sale or on Craig's list.
My six year old laptop would be worth virtually nothing today. But we received a nice chunk of money to replace it with a brand new MacBook because we had the replacement coverage.
Concerned About ID Theft
Both of these scary money situations gave me concerns about ID theft. Here's why: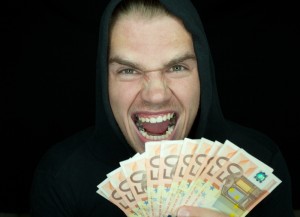 My wife's ID and debit card were in her purse, which someone could use to make purchases
My wife's iPod Touch was in her purse, and she had used it to access some of our bank accounts…so someone else could possibly log in too…especially because some of our passwords were saved in her iPod.
The computers that were stolen had sensitive financial information stored on them, including old tax returns which contain our social security numbers, income and expense information, etc.
We had used those computers to access our bank accounts, and had used Quicken on one of them to keep track of our accounts.
We canceled her debit card right away and changed the account passwords, to limit the possibility of identity theft and fraud.  But ID fraud is still a concern that I think about from time to time.
What's your scariest money story?  One that really happened, or one you think about that could happen?
More great Money Wise Pastor posts you might like…