USA Today reported recently that former NFL star Warren Sapp has filed for bankruptcy, highlighting a lesson I learned as a teen: It's not what you make, but what you keep that really matters!

According to his Chapter 7 bankruptcy filing, former University of Miami and Tampa Bay Buccaneers player Warren Sapp owes more than $6.7 million to creditors and in back child support.
On the bright side, he does have $6.45 million in assets, which include 240 pairs of Jordan Brand shoes worth almost $6,500, a $2,250 watch, and a lion skin rug worth $1,200.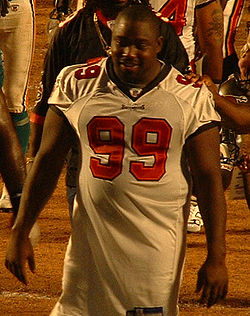 Sapp currently works as a football commentator and earns an average monthly income of $115,881 – that's $1.4 million per year.
I don't know about you, but I could live on that. Sadly, Warren Sapp can't.
He's the latest in a long line of former pro sports athletes who have gone broke after retirement.  According to Sports Illustrated, 78 percent of NFL players and 60 percent of NBA players file for bankruptcy within two years of their retirement!  
How sad.
Why Do Pro Athletes Go Bankrupt?
Why do so many sports stars go bankrupt?  When you boil it all down, I think the simple reason is that they don't pay attention to where the money is going.
Their focus is on what they make, not what they keep.
Really, spending more than you make is a problem that millions of Americans face, but for sports stars, their problems just have more zeroes at the end of them.
Pro athletes get handed millions of dollars at an incredibly young age and most of them seem to spend it pretty quickly on cars, homes, toys, parties, and bad investments. A couple of years later, many sports stars like Sapp, Mike Tyson, Michael Vick have no clue where all the money went. Warren Sapp doesn't even have a clue where his NCAA National Championship and 2002 Superbowl rings are.
Gratefully, not all professional athletes fail at money management.  Some, like Magic Johnson, Steve Young, Steve Nash,and Alex Bernstein, have parlayed their incredible sports earnings into even greater wealth through entrepreneurship. They learned how to keep and grow more of what they earned.
How to Keep More of What You Make
Here are five tips to help you keep more of what you make:
Don't rush into anything – Don't be in a hurry to make a major purchase or investment. Take your time to think it through and get good counsel from trusted advisors.
Pay yourself first – Decide how much you're going to put into savings before you start spending it all. Set a goal and put it in writing.  For example:  "I want to have $2,400 in long-term savings by a year from today.  That means I need to save $200 a month."
Make a plan – Don't just let life happen.  Decide in advance how you're going to spend your money.
Keep it simple – Don't make things overly complicated, or listen to financial advisors whom you don't understand.
Review your progress – Make time each week or month to balance your accounts and track your progress.  The sooner you identify a problem, the sooner you can correct it before it becomes a major issue.
You might not make millions of dollars like a star athlete, but in the end it doesn't really matter what you make. It's how much you keep and grow that makes the difference.
Do you have a goal and plan for how much money you're going to keep?
You might also like: